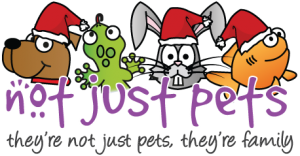 December is here which can mean one thing… Christmas! The best time of the year where we can decorate the store, get ready for Christmas and display all the favourite Christmas stock! We have been busy stocking our shelves with festive treats for all animals.
This blog will contain all the Cracking Christmas treats that we have in store for dogs, cats, and small animals as well as how we are preparing for the Christmas festivities.
We have decorated our Bath city centre store windows with a festive scene and a winter wild bird window.
Here is a shot of the wild bird window! As you can see it is a wintry scene with some very wild birds joining us… March of the penguins!
In our other window we have a festive party with a wintry scene. Father Christmas seems to be having some trouble on the roof!
We have a range of Christmas toys and treats for cats, dogs and small animals as well as all our usual toys, accessories and gift ideas.
Does your cat or dog look at you longingly for your favourite Christmas treats? Here in the Armitage range are dog and cat friendly treats including mince pies!
Are you are going away over Christmas? Do you have anyone to free to care or your pets? If the answer is no then give the store a call! Our Pet Hotel has spaces available for small animals, birds and reptiles.