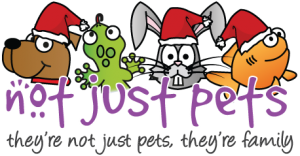 Here at Not Just Pets we think that Christmas is a wonderful time of year where you can spoil not just your family and friends but also your beloved pets. We have had our shelves stacked with fantastic festive treats for all animals but some of the special treats that we love to indulge in at this time of year are not so great for your pets!
Chocolate! 
There is always lots of chocolate around at Christmas time from advent calendars, tree decorations, selection packs, to tins and presents. These may prove too tempting for your dog and could lead to chocolate poisoning.
Chocolate contains a stimulant called theobromine which is similar to caffeine. This is what is poisonous to dogs. Different types of chocolate contain different amounts of theobromine, white chocolate the least and dark chocolate the most. In 25 grams of white chocolate there is minimal amount, in milk chocolate 44-64mg, in dark chocolate 390-450mg and in dry cocoa powder 800mg. 100-150mg of theobromine per Kg of bodyweight is toxic to dogs. So if a regular sized dog weighing 30kg eats 1kg of milk chocolate it is enough for a fatal toxic reaction.
Please seek veterinary advice if your pet dog eats any chocolate the sooner you seek help the better the outcome. 
If your dog is a chocolate fiend we sell a range of dog safe chocolate that will satisfy them! So while you tuck into your Chocolate Orange your pet dog could snuffle up their own!
Grapes, raisins, currants and sultanas. 
Many Christmas treats include these tasty ingredients, Christmas pudding, mince pies and Christmas cake! Grapes, raisins, currants and sultanas are all toxic to both cats and dogs. Cooking them does not change how toxic they are. Any quantity could be harmful so seek veterinary advice if accidental eating occurs. They would make your pet very unwell and this could lead to renal failure.
Bones and carcasses
Although it is tempting to give your pets the bones and carcass from the Christmas roast they could potentially harm your pet. The bones may be too small, sharp or splinter in their throats.
Party time – strangers, noises and fireworks
Alcohol
There are lots of parties, dinners and get-togethers over the festive season. We all know how alcohol can make us feel – the good and the bad – A drink may be left unattended and be accidentally slurped by a pet! Make sure they have plenty of fresh water available to them and are safely settled if you are having a party. This could help avoid any accidental drinking!
Parties
The best way to avoid your pets getting stressed by extra visitors is to prepare beforehand. Make sure you can put them in a quiet, stress free room with their bed, toys and maybe the TV or radio on.
Fireworks 
Over the New Year rather than Christmas time people use Fireworks that can cause stress to cats and dogs.
We sell products that will help calm your pets during this noisy time.
We have Pet Remedy which can be used as a plug in or a room spray and is suitable for all mammals. We also have Adaptil for dogs and Feliway for cats, this comes in a room plug in and a spray also.
We also have a Calming spot on that can last up to a week. Available for both cats and dogs.
Decorations
Although some pets may like to shoot up the Christmas tree as soon as it is up, there should be no harm in them playing with tinsel and baubles just so long as they do not eat them! There are some other traditional decorations that can be harmful and these are the Christmas plants that we bring into our homes at this time such as  poinsettia, ivy, holly and mistletoe. Please make sure your pets are not able to nibble on these and seek veterinary help if an accident occurs.
Hopefully this blog has given you some information about what could potentially be a hazard in your home at this time of year. We hope that you and your pets have a wonderful Christmas and New Year and look forward to seeing you in 2015!
 We look forward to welcoming you in store soon; remember we are open in our Bath store 7 days a week!
Any ideas and suggestions you have will be welcomed. You can follow us in many ways:
 We are now on Instagram! – notjustpets Follow us and see some fantastic photos!
We run regular photo competitions, quizzes, offers and promotions on our Facebook and Twitter pages, so why not "like" or "follow" us today! 
Get in touch via any of the above, or via our website or email at bathpets@aol.com or telephone us on 01225 461461. Or simply pop in, you'll be welcome!