This year's National Pet Month theme is "Your Pets and You: A Winning Team" and we shall be holding three special Open Days at our Bath and Frome stores to celebrate with National Pet Month and help to promote responsible pet ownership too. 
On April 14th, from 10 am to 4pm  we have our first Open Day for National Pet Month at our Larkhall store – and our special guest will be Howard Grove, Bath's very own Dog Whisperer. So – book in early to ask him some behavioural questions and bring your doggie along to meet him. We shall have a raffle on the day with proceeds going to Bath Cats an Dogs Home. The DOCTOR is in – in the afternoon we have Murray from Ashman Jones Veterinary Clinic joining us giving advice on all things pet. We will have homemade cakes, face painting, animal handling (including Lee's own lovely ferrets and Anny's rats and hamsters), colouring competitions, nutrition advice from dog and cat experts and more! Come along and join in the fun!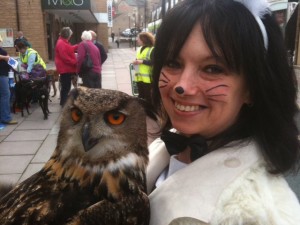 On April 21st we will be holding a similar Open Day at our Frome shop – and this time you can meet Boo, our European Eagle Owl plus lots more lovely animals to see and handle. The Cats Protection ladies will be there with their wonderful stall and we will also have doggies from Greyhound Rescue West of England with us – plus nutrition experts on hand to help with your dog and cat dietary questions. Kathverena Groomers will be doing pet claw clipping – £1 a paw and Donna the Dog Listener will be with us too! There will be face painting, a raffle, competitions, cakes and all the staff will be dressed as animals. There will be offers and freebies on the day – so why not pop along and enjoy the fun?
On Saturday April 28th  there will be lots of fun for all the family in our Bath store including: face painting, animal and reptile handling,  a HUGE raffle in aid of Bath Cats and Dogs Home with some fabulous prizes AND Claverton the mascot dog attending,  a Hungry Hector stall plus Hector himself, homemade cakes for sale, dog ICED TREATS on offer, a special promotion on frozen dog food, nutrition experts on hand from Royal Canin, grooming offers and advice, colouring competitions, 'guess the neons in the tank' competition, a dog training display and more. The staff will be dressed as their favourite animals – but you don't have to (unless you want to!) Come along, enjoy the fun, meet lots of fabulous animals and find out all you need to know to keep your pet happy and healthy so that YOU make a winning team.
If you haven't been in already this will be a chance to pop in and see our bright new Bath store – pictured above – with new small animals, new food and accessory ranges and a lovely new reptile room.
All the details will be on the National Pet Month site at https://www.nationalpetmonth.org.uk and we will keep you updated via our Facebook and Twitter pages – so why not follow us to find out all our latest news? We will be posting a photo competition during National Pet Month on our Facebook page at  https://www.facebook.com/pages/Notjustpets-Pet-Shops-in-Bath-Frome/103981576322758
or follow us on Twitter at @NotJustPets https://twitter.com/#!/NotJustPets
You can also email us at bathpets@aol.com or telephone on 01225 461461/461478