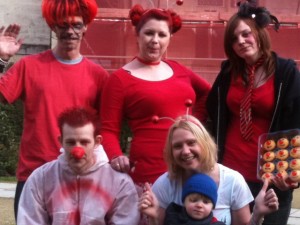 Yes, it's that funny time of year again! Well, it's every two years, but you know what I mean? It's Comic Relief's Red Nose Day on Friday 15th March and all the Not Just Pets teams are doing something funny for money on that day.
Please help sponsor or support us – at Bath we are eating doggy treats (!), running in a giant hamster wheel (treadmill), and you can design a dog bowl (pick up a plate and pay £1 to enter) or win a bag of dog food – just buy a lucky ticket!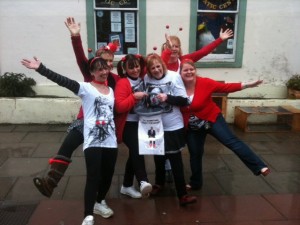 In Frome Steph is being sponsored to be quiet ALL DAY. Will she do it?? –  it will be a miracle if so – and she needs your help; the more she raises, the longer she stays silent – and the staff will thank you for that! 🙂
At both shops we have Red Nose cakes for sale and fancy dress. At Larkhall Lee will be dressed up and will also be selling cakes and taking donations.
We have Red Nose Windows in Bath and Larkhall – and the hamster 'wheel' will be in the Bath window all day. Please support us – pop in, donate, make a difference. Thank you!!
You can donate on our page here at https://www.justgiving.com/NotJustPets
You can also follow us on Facebook (please 'like' us) at www.Facebook.com/NotJustPets or on Twitter @NotJustPets or email us at bathpets@aol.com or simply pick up the dog and bone and ring us on 01225 461461.