So we have done it! In just under a month, we have moved from our old premises at Irongates, to the wonderfully bright and central spot known as No. 1 Market Place, Frome. It was a mammoth task which involved some tricky downsizing in some areas and expansion in others, but we hope our customers like the new, open shop space and layout. We took our graphics from our logo with us and the fabulous folk at N3 Display Graphics helped us come up with some vibrant vinyl designs for our windows. We hope you like them!

The new shop only differs from our old one in that we no longer sell animals, fish and reptiles – something we had to stop doing during the first lockdown. None of our other services have changed though and the most important thing we will continue to offer is FREE local delivery to our customers. We take telephone orders on 01373 462068 and customers can pay over the 'phone or online via BACS or by PayPal, whichever is easiest. We love to see our customers though, so if you can, do pop in and say hi, you'll be so welcome, owners and pets alike!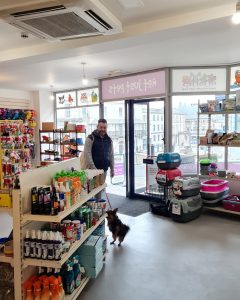 Customers and their dogs love coming in to the new shop!
We also offer a tag engraving service on-site and weighscales for your dog, plus we are more than happy to help you with harness and coat fitting, just ask! If you can't find what you need in store, do please ask us – we will be more than happy to order something in and this usually only takes a day or two.
We have all Covid procedures in place to make it a safe environment for everyone and we ask customers for now to please wear a mask in store, unless exempt for medical reasons. So do come along to No. 1 Market Place and visit with us – but if you cannot come to us for any reason just ring to place your order – or why not check out our fabulous website at www.notjustpets.co.uk
Our cartoon dog shows people where to find us and we get to look out on to the Market Place!
Find us on Facebook at www.facebook.com/NotJustPetsFrome and Instagram and Twitter at @NotJustPets