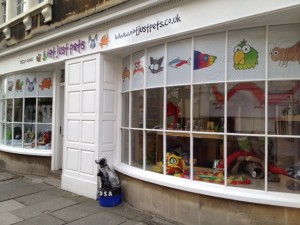 Our Bath city centre store now has three new rooms that are all ready for customers to visit. These new rooms will enhance the customer shopping experience and offer something different and new! We have taken the customer feedback about the store and have integrated them into three new rooms in our downstairs area. We are eager for customers to come in and visit them so we can hear what they think about them.
The first of our three rooms is The Garden Room. The store layout as it was did not have enough room to display all the big hutches, cages and coops that we keep in stock for customers to view. We have decorated the room to look like a lovely sunny garden. With Grass, a tree, butterfly, birds and bees. Customers can now see the hutches built up and see the quality and size to help them choose what is right for their needs.
The second of our new rooms is The Relax and Play Room. The area is big enough to stock a vast array of bed designs and sizes that customers were asking for. Customers can now try out the beds and see which they would like to purchase. There are beds for cats and dogs of all shapes and sizes. They look very inviting and we have to check no one has fallen asleep in there! This is the relaxing part of the room.
The play part of the room has a fantastic treat dispenser that with 50 pence you can get a handful of treats to try out the interactive treat toys that we stock. There is enough space for dogs to try out the toys before you buy them. At the moment we have some great Kong toys to try out and the first 6 customers who say "Treat please" at the till will have a free go on the treat dispenser and toys!
The third new room boasts the best views from around the world! It is our very own Pet Hotel. This is a dedicated area for boarding small animals, pets and birds. Decorated to look like a hotel room complete with lamp, rug and bible. We are able to offer the customer 7 days a week pet boarding, safe in the knowledge that their pet is well looked after here in Bath.  We have prices per day and discounts for longer stays and multiple animals. Call the store today and ask for a quote. The Pet Hotel will even be open over the Christmas holidays! So if you are planning on going away we can make sure your pets are well looked after.
We look forward to hearing your feedback about the new rooms! We think they add to the shopping experience by offering more choice, space and peace of mind.
 We look forward to welcoming you in store soon; remember we are open in our Bath store 7 days a week!
Any ideas and suggestions you have will be welcomed. You can follow us in many ways:
 We are now on Instagram! – notjustpets Follow us and see some fantastic photos!
We run regular photo competitions, quizzes, offers and promotions on our Facebook and Twitter pages, so why not "like" or "follow" us today! 
Get in touch via any of the above, or via our website or email at bathpets@aol.com or telephone us on 01225 461461. Or simply pop in, you'll be welcome!