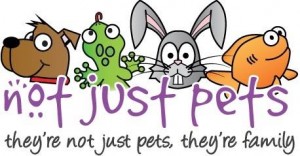 We have some fantastic news to share with you all! Not Just Pets has won the prestigious award of Pet Product Retail Association (PPRA) Retailer of the Year for 2015!
The PPRA presented their annual awards at the PATS show this week. The awards are seen as the Gold Star Standard in pet product industry.  The PPRA asked suppliers to choose the retailer of the year using the criteria of business etiquette, professionalism, reputation and store ambience.
"Each member of staff provides excellent, friendly customer service and is always willing to spend time with customers as well as provide after-sales care," the PPRA said.
The retailers are nominated by their suppliers and one said: "This business [Not Just Pets] goes the extra mile to ensure their customers are well informed, and their needs are catered for in all aspects of pet matters."
The staff members here in Bath and Frome are delighted to receive this recognition for their work.  The award means a lot to them as it shows their hard work and dedication to the customers and animals has paid off.
"I get to work with some fantastic people who only ever have the best interests of both their customers and the animals in mind. Who would not enjoy that." Dale Taylor.
"In my time with the company I have had fantastic support and this allows us to develop our skills in a positive environment; personally I have gained confidence in working in retail. I have a passion for animals and it makes me proud to be able to say that I work in a company that puts animal welfare first and that is always looking for ways to further enrich the lives of animals both in store and at home with our customers." Hannah Coombes.
Janine and Mike Tozer owners of Not Just Pets said
"We are thrilled to win this award and especially as we had no idea we had been nominated by our suppliers. We are very proud of all the team members of Not Just Pets as this really highlights their commitment and hard work and their dedication to good customer service, backed up by sound knowledge with a friendly approach. Fantastic!"
We look forward to welcoming you in store soon; remember we are open in our Bath store 7 days a week!
Any ideas and suggestions you have will be welcomed. You can follow us in many ways:
 We are now on Instagram! – notjustpets Follow us and see some fantastic photos!
We run regular photo competitions, quizzes, offers and promotions on our Facebook and Twitter pages, so why not "like" or "follow" us today! 
Get in touch via any of the above, or via our website or email at bathpets@aol.com or telephone us on 01225 461461. Or simply pop in, you'll be welcome!