We continue our National Pet Month Celebrations this week at Not Just Pets with cats and dogs! There are many wonderful reasons to own a cat and dog, so please come and join us in store with another fabulous open day this Saturday 12th April
Kelly from Canagan will be joining us and she will be offering nutritional advice for both cats and dogs. Find out about this fantastic new food which is grain free and formulated to offer the best for your pet.
We have Imogen who is a dog physiotherapist visiting in store. She will be offering advice and information.
Also, we will have the expertise of Caroline, who is a Dog Trainer from Clever Dog Company she will be in store to answer questions about your pet's behaviour.
Bath cats and dogs home will be in store and we will once again be supporting and raising funds for them by selling cakes and treats. Claverton will be here plus Bella and Bob.
As part of the celebrations we will have advice, freebies and more!
The location for these cat and dog festivities is in our Bath store Not Just Pets, St James Parade, Bath. Join us between 10.30am-4pm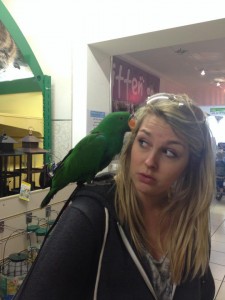 In our Larkhall store we are Celebrating birds as pets this week! We will be holding an open day this Saturday 12th April. Come and join Catherine and Sunshine the Eclectus parrot in the celebrations!
Other special guests include Birdline UK Parrot rescue who will be bringing a macaw, African grey and a cockatoo with them!
We will have also have a lucky dip, offering handling advice, offers and freebies!
Join us at Not Just Pets Larkhall 3 Lambridge Buildings between 10am and 3pm
We look forward to welcoming you in store soon: remember we are open in our Bath store 7 days a week!
Any ideas and suggestions you have will be welcomed. You can follow us in many ways:
On Facebook:(https://www.facebook.com/NotJustPets) and Twitter: (https://twitter.com/NotJustPets) and  Pinterest: (https://www.pinterest.com/notjustpets/)
– plus we will be joining Instagram soon too!
We run regular photo competitions, quizzes, offers and promotions on our Facebook and Twitter pages, so why not "like" or "follow" us today! 
Get in touch via any of the above, or via our website or email at [email protected] or telephone us on 01225 461461. Or simply pop in, you'll be welcome!