Exciting times! We have just taken in a selection of gifts which should appeal to our reptile customers, but also to children and adults alike. There are gorgeous little glass reptiles, magnets, key rings and soon we shall be getting some jewellery in too! Plus some gorgeous plush soft toy snakes and other reptiles for children (young and old). And how about these fun 'fridge' magnets – very realistic, in their own 'cricket box' – great for practical joke gifts. Choose from Cricket, Mantis, Red Poison Dart Frog or Green Tree Frog.
Not only that we have just found a fabulous seamstress who specialises in making small animal hammocks and hides, but also a fantastic range of leads, collars and harnesses. We have placed an order and these fabulous items will be with us very soon. We are still selling some of the Rattmas range too – while stocks last – but our Rattmas maker is taking a break soon, and we are delighted to find this new supplier, unique to Not Just Pets.
We will keep you updated as the stock comes in and post up more pictures as we go. These will also be on our Facebook site – so why not pop over to Facebook and "like" us too.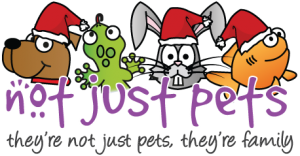 All our Christmas stock is now instore, including advent calendars, cat and dog stockings, small animal stockings, toys and treats galore and even our own goodie bags, lovingly put together by our own staff for something a bit different. We have high quality beds at 15% off throughout the month and a good range of new fish tanks and reptile houses. So why not pop in and browse – you'll be welcome. We haven't put much of the Christmas on the website as it sells so quickly instore – but do ask if you have any questions.
For all our customers who are on the O2 network, we have signed up to Priority Moments and are giving offers throughout November and December under this scheme. Our current offer is £5 off a £35 single spend in all three stores on any accessories and treats. To redeem your Priority Moment, text 'Moments' to 2020.
And finally, I couldn't go without posting two pictures of these cute frogs who arrived in our Bath shop this week. Aren't they cute? But if you don't fancy the real thing, how about a glass one? Or two?
Remember you can ask us questions via our website, or via our Facebook and Twitter pages – or simply email us at [email protected] or call on 01225 461461.