Not Just Pets celebrated National Pet Month in style with three fabulous open days at each of the stores – at Larkhall on 20th April, at Frome on 27th April and in the main Bath store on 4th May.
All three events were very slightly different but they all emphasised the theme of National Pet Month which this year was "Your Pets and You; Companions for Life" and promoted responsible pet ownership, the ethos of National Pet Month. The events were a huge success and really well-attended with visitors coming from the local area and further afield. The weather was kind on all three days which helped the days go with a real swing!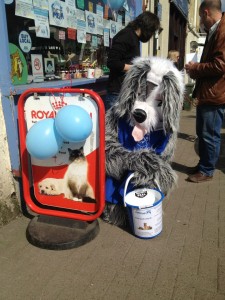 The Larkhall event raised funds for Bath Cats and Dogs Home, Greyhound Rescue West of England and for Bunny Rehoming in Bath. There was plenty of animal handling (including ferrets), experts on hand to advise on dog behaviour and small animal rescue, offers on good quality foods and nutrition advice and a local pet portrait artist. Total fundraising on the day came to £187.57 with special help from Claverton, the mascot from Bath Cats and Dogs Home.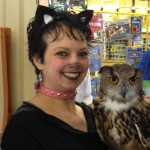 The Frome event almost took over the Kingsway precinct in Frome with activities from demonstrations and parades by dog handlers from the Frome K9 dog training school, to a huge stall from Cats Protection, nutrition advice from good quality food suppliers, personal encounters with Boo the European Eagle Owl, lots of competitions including a "guess the breed" competition from the local vet – plus he was on hand to answer questions. There were meet and greet sessions and handling with rescue greyhounds, bunnies, rats and more, face painting, a fabulous raffle and local pet portrait artist too. Funds were raised for the local small animal rescue centre CottonTails and for Greyhound Rescue West of England. The total raised on the day was £494.59 and £17.50 of merchandise sold by GRWE on the day.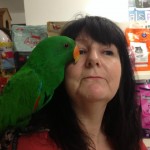 The Bath event took a slightly different format. There were talks being given every half hour on all the different types of companion pet from hamsters at 11am to fish at 4pm with lizards, small furries, spiders, snakes, dogs and cats in between. In total eleven different talks with some amazing animals on hand, all given by either staff of Not Just Pets in Bath or visiting experts. The staff were dressed as Jedi instructors as it was May the 4th (May the Fourth Be With You!) The talks covered all aspects of the different pets people keep, how to look after them and why they make such good companions. Nutrition advisers, animal behaviour experts and a local pet portrait artist all supported the day too.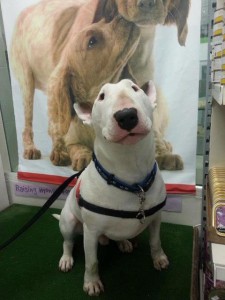 This event also raised funds and awareness for Bath Cats and Dogs Home  and for the local Cats Protection in Bath and the small animal rescue centre. The total raised was £104.78 instore plus much more in BCDH buckets – totals to be announced soon. There was a pet photo competition which was a big hit and was won by this handsome fellow called Koda, with a cute Westie and another cute German Shepherd as runners up. We had sixteen entries which all raised funds for Bath Cats and Dogs Home and over 100 votes instore and likes on Facebook.
The three events were fun, educational and did much to promote the National Pet Month ethos and this year's theme of pet companionship. Not Just Pets would like to thank all those who supported the event, whether by attending and giving a talk or advice, by helping with promotion or oganisation, by sharing their invaluable knowledge and to the wonderful customers who turned up and took part and donated on the day.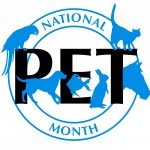 Pictures from the event are on Facebook here for Larkhall: https://www.facebook.com/media/set/?set=a.499488393438739.1073741828.103981576322758&type=3
here for Frome: https://www.facebook.com/media/set/?set=a.538445446206198.1073741825.126233544094059&type=3
and here for Bath:  https://www.facebook.com/media/set/?set=a.504433352944243.1073741830.103981576322758&type=3
You can follow Not Just Pets on Facebook at https://www.facebook.com/NotJustPets or on Twitter at @NotJustPets
Email on [email protected] or telephone on 01225 461461
Not Just Pets, 8-9 St James Parade, Bath, BA1 1UL