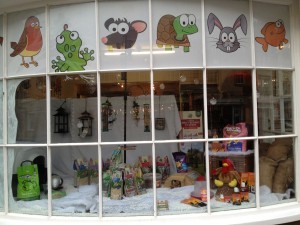 Well, it has been some journey, but we have done it! We are in and the new shop is looking fab, though we say so ourselves (all our customers are saying it too so it must be true!)
For all our lovely regular Bath Pet Centre customers, fear not, we have not moved far at all – about 100 paces – just across the road to St James Parade (into the old Ambiente bathroom shop). We have two bay windows (some say it looks like an old-fashioned toy shop or sweet shop) and the new name above our shop is Not Just Pets (in line with our website and social media names). The graphics are bright and colourful, thanks to @HeavyGoodsMedia and @N3GraphicsDisplay – giving the shop a contemporary feel.
We still stock all the old favourites but we have added some new products in too. We have new dog toys – Tuffies, Zogoflex and Mighty Juniors to name a few, some new dog and cat collars and leads including Hem & Boo and Lupine. The Lupine range is superb as it is "guaranteed EVEN if chewed". The Zogoflex Twiz even made an appearance on Gabby Logan's Channel 5 morning programme!
We have fitted out a brand new reptile room and have settled in some lovely new specimens including Cordy (Cordelia) our Panther Chameleon; Wilton our Carpet Python and also two fabulous new Royal Pythons and a beautiful new corn snake. We also have leopard geckos, friendly bearded dragons, tortoises and skinks – and more!
Our new aquatics tanks are also looking splendid and Ashley is doing a grand job of introducing a few new fish to our range, but to keep it simple, we are stocking the basics for coldwater and tropical fish.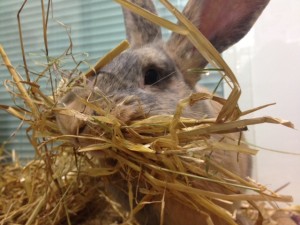 Even our small furries have new enclosures – and by the look on this bunny's face she is very happy and has started making a nest!
There are lots of lovely new things to see in our new light and bright store and we would love you to visit and give us some feedback. To encourage you to come see us, we have placed an advertisement in Bath Life with 10% off your first purchase (excluding livestock) and we have also joined up to the @NowBath loyalty card scheme. Sign up for free and automatically get 10% off accessories and 5% off food in our store in Bath.
We have a Fun Day planned for February 25th – something for all the family with Russel Rabbit, Bath Cats & Dogs Home Mascot, Face Painting, Competitions and a Big Raffle, Animal Handling and a Reptile demonstration plus lots more. Watch this space or on our Facebook and Twitter pages for more news. We have also teamed up with The Breeze 107 radio and you can hear our adverts and news on there – so tune in on 107.9 FM.
Come in and see us at our new store at 8-9 St James Parade, Bath, BA1 1 UL – you'll be welcome!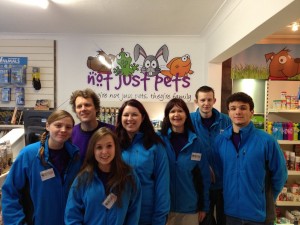 You can follow us on Twitter @NotJustPets, on Facebook – NotJustPets, or email us on [email protected] or telephone 01225 461461.
And don't forget to visit our website.. www.notjustpets.co.uk