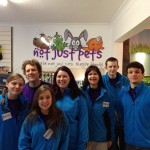 We are looking for a part time Sales Assistant to cover maternity leave from March 2013 to Jan 2014 at our Bath store. This person must have retail and pet care experience please and any qualifications in animal care would be a bonus.
The work includes serving customers and using an EPoS system, animal cleaning and responsibilities mainly in the small animal section, general shop duties and some heavy lifting.
Hours of work will be around 16 per week with some flexibility. Wages: £6.20 per hour.
Please apply by email to [email protected] with a CV or by letter to
Not Just Pets, 8-9 St James Parade, Bath, BA1 1UL.
The closing date is Friday 15th February.
Please share this notice, everyone. Thank you.
You can follow us on Facebook at https://www.facebook.com/NotJustPets on Twitter @NotJustPets or on our website www.notjustpets.co.uk