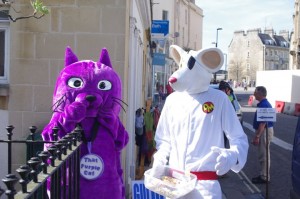 We are having our Open Day on Saturday 25 Feb at our Bath shop at 8-9 St James Parade, Bath.
We are teaming up with Bath Cats and Dogs Home (BCDH) and have lots in store for our customers including:
– Claverton, the BCDH mascot and Russel Rabbit (let's hope they get on!)
– a HUGE raffle (proceeds to BCDH)
– Face Painting
– OFFERS all day including 20% off dog and cat beds; BOGOF on selected toys, 15% off aquatics tanks and beardie set-ups; buy a Muddy Paws mat and get a Dinner Mate mat FREE; Royal Canin money-off vouchers; £2 off 2kg Barking Heads and more!
– Colouring competition for children
– Guess the Weight of the Jar competition
– Animal Handling
– Reptile talks and handling
– Flying Fish!
– Cakes for sale!
Come and get nutrition advice for your doggie or moggie, learn about everything from bunnies to beardies, gerbils to geckos and cats to chameleons!
Or just pop in and see us and pick up a bargain for your pet on the day! You'll be welcome!
Keep up to date with us on Twitter @NotJustPets,
on Facebook at https://www.facebook.com/pages/Notjustpets-Pet-Shops-in-Bath-Frome/103981576322758
or call us on 01225 461461 or email to [email protected]