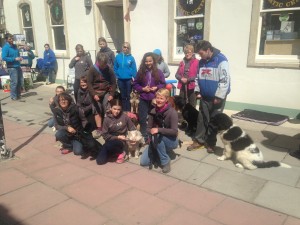 Not Just Pets held a fabulous Open Day for National Pet Month in Frome at the beginning of May.
This year's theme was a focus on the Top 10 Tips for Responsible Pet Ownership, reminding us of how important it is for us to provide the very best levels of care for our pets. To illustrate some of the 10 Top Tips, Not Just Pets invited Frome K9 Dog Training group who gave a wonderful demonstration of of dog training in the street right outside the store. There was a large number of dogs of all different breeds and they really showed how well they have been training their owners!
Greyhound Rescue West of England were also invited and they attended with many of their rescued hounds, raising funds and awareness of greyhound rescue. The lovely ladies from Cats Protection supported the day by manning one of their excellent stalls of goodies for sale where they raised £123 and they gave out lots of information too.
Boo the European Eagle Owl was a firm attraction and he has been to every Open Day at the Frome store. Visitors were also treated to an up-close and personal encounter with several snakes provided by customer Gavin Hill.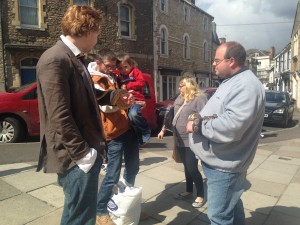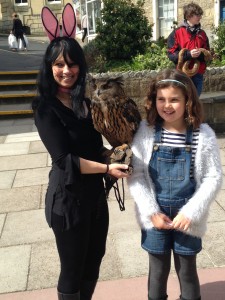 There was plenty of small animal handling on the day, too and customers and visitors were educated on the needs of these small pets.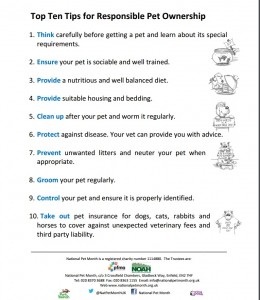 The staff also demonstrated how some animals shed their skins and spider and snake skins were on display.
There were quizzes and cakes and offers throughout the day.
Not Just Pets in Frome would like to thank all the staff for their hard work, all the supporters on the day and of course, the wonderful customers who came down to make the day such a success.
In total, £ 216.32 was raised for the two charities.
National Pet Month (NPM) seeks to promote responsible pet ownership and raise valuable funds for animal charities across the UK by encouraging people to hold events just like the one at Not Just Pets.  Michael Bellingham, new chairman of NPM said:"We're delighted that Not Just Pets held another great event to celebrate our relationship with our pets. They give so much to us – in return we need to look after them responsibly to keep them healthy and happy – follow our Top Ten Tips! We hope everybody involved had a great time in the process."