Well done to all our staff for winning the Retailer Event Award for National Pet Month!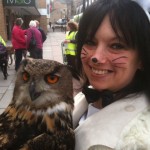 The theme this year was "Happiness is time spent with your pet" and we had three fabulous Open Days to celebrate at Frome and Bath.
Frome Pet & Aquatics Open Day had a fabulous Open Day on 2nd April – the theme was "Happiness is.. time with your pet" and everyone was certainly happy on Saturday – customers, staff and charities alike.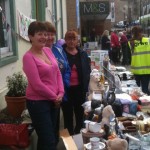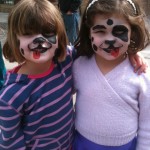 There was so much to see and do on the day and we certainly achieved our aim of promoting responsible pet ownership with lots of animal handling and good advice being given and in raising a wonderful total of £528.42 for the Cats Protection and GWRE (Greyhound Rescue) charities.
The Dog Portraits were also a huge success and we are looking forward to seeing the doggie photographs.
We would like to give huge thanks to everyone who came down, supported, worked, had their dogs photographed, bought raffle tickets, sold raffle tickets, dressed up, painted faces or had their faces painted, danced, gave expert advice and goodies, brought dogs and other animals, made cakes, bought cakes and so much more!
On Saturday 9th April – we had Open Day at Bath Pet Centre
Sadly DARIUS, the WORLD'S BIGGEST BUNNY was unable to come to our Open Day due to sad circumstances with his owners, but he is hoping to come to us in the near future.
Nevertheless we had a fabulous day! We had painting, a fabulous PRIZE DRAW, "hands-on" sessions with the animals, a reptile talk, the Hedgehog Society, Bat Rescue, pet nutrition experts with samples and freebies,
Howard Grove, Bath's very own Dog Whisperer came down to talk to customers and give advice about the behaviour of their doggies, a colouring competition, cakes, Ashman Jones, the local vet on hand to give advice – and Starbucks provided us all with free coffee!
We even had the Purple Cat come in for a visit and Danger Mouse – and they had fun out in the streets selling the lovely cakes.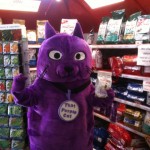 We hope we showed all our customers lots of ways to spend happy times with their pet – and we raised over £150 for Canine Partners and Oldies Club who were also with us on the day!  
We had another fabulous day on Saturday 30th April for our Open Day for National Pet Month 🙂
We had some lovely visitors and doggies supporting us on the day including Tag, Sid, Trixie and Lucy from @OldiesClub (https://www.oldies.org.uk) the senior dog rescue and rehoming organisation and beautiful greyhounds and lurchers from Greyhound & Lurcher Welfare & Rescue (https://www.glwr.org.uk) We also had fabulous support from Royal Canin (thank you Jasmine) and James Wellbeloved (thank you Sam) who gave out advice and samples to our customers on pet nutrition.
Lee (our new Larkhall manager) brought his lovely ferrets Lily and Daisy and talked to lots of people about ferret handling and care, we had Fred & Barney guineapigs and Anny brought Cedric and Lilli her friendly rats and Deagol, the cutest, smoothest hamster ever!
Mrs Gale made some fabulous cupcakes and all the staff baked cakes and biscuits to sell on the day.
Pippa from Ashman Jones Veterinary Surgery came down to chat to our customers and give advice and Taiga our young German Shepherd customer won first prize in the raffle – £75 to spend on nommy treats and goodies!         
The staff all dressed up on the day and the raffle, facepainting and cakes all raised funds for Oldies Club and the Larkhall Festival charity (amounts to be published later). Greyhound & Lurcher Welfare & Rescue also raised money on the day selling their lovely cards and collars and from donations from customers and Cats Protection Bath also joined us for the day.  
Janine showed lots of customers our spider skins and snake sheds and the youngsters were particularly fascinated to learn how so many creatures shed their skin.
Huge thanks to everyone who helped make the day such a success, to the staff for working so hard and the charities and suppliers for supporting us on the day and most of all, our lovely customers! National Pet Month… Done and Won!
Photos are here:
and on our Facebook page here
and you can follow us on Twitter @NotJustPets